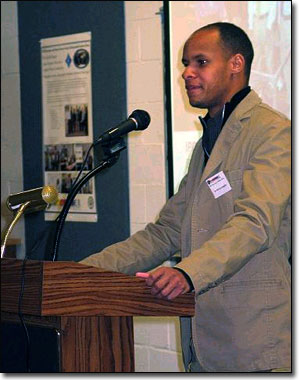 On November 8, 2007, the Center of Excellence in Remote Sensing Education and Research continued the Distinguished Lecture Series with guest speaker Dr. Derrick Lampkin of the Department of Geography at Pennsylvania State University. Dr. Lampkin's presentation was entitled "Monitoring the Antarctic Ice Shelf Energy Balance using Robotic Rovers" which gave an overview of his research project on gathering meteorological data from points outside the current Antarctic Automatic Weather Station (AWS) system. He is working in conjunction with the Georgia Institute of Technology to develop robotic rovers which could traverse to specific locations on an ice shelf and return meteorological measurements to a central point. Dr. Lampkin presented the background information regarding his team's progress with the hardware platform and also the challenges faced by the software development teams. Dr. Cynthia Warrick, Dean of the School of Mathematics, Science and Technology, opened the program and welcomed guests. Dr. Lampkins presentation can be viewed here in Real Player format.
The Distinguished Lecture, co-sponsored by the NSF CI-TEAM project titled "Cyberinfrastructure for Remote Sensing of Ice Sheets" was webcast to all CReSIS and ADMI Partners.
After the completion of the lecture, the IEEE-GRSS Northeastern North Carolina Chapter held its fall meeting. Chapter president, Dr. Linda Hayden, Assistant Dean of the School of Mathematics, Science and Technology welcomed local and visiting guests. The minutes from the July 2007 meeting were read by Mrs. Keisha Wilkins, GRSS Chapter Secretary. Dr. Hayden presented the IGARSS 2007 Report followed by Dr. William Porter, GRSS Chapter Vice-President, who gave the ADCom Report. The upcoming events and a discussion of the approval of a new student chapter finished out the meeting.