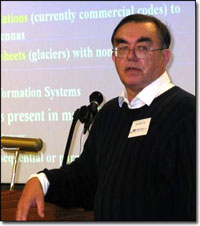 On October 19, 2006, the Center of Excellence in Remote Sensing Education and Research (CERSER) continued the Distinguished Lecture Series with Dr. Geoffrey Fox of Indiana University as the guest speaker.
Dr. Fox is the Director of Community Grids Laboratory; Pervasive Technology Laboratories at Indiana University. Dr. Fox is currntly working with the Minority Serving Institutions in the development of a Cyberinfrastructure. A major part of this development is the use of Grid technologies to build collaboration systems and their application in distance education. This technology includes a Web based structure for audio-video conferencing. His presentation was titled " Implementation of a Polar Science TeraGrid Gateway for SAR and other CReSIS Data Sets ".
Dr. Willie Gilchrist, Chancellor, ECSU, opened the meeting with a greeting to guests and a welcome from the University. Dr. Gilchrist is currently serving as Interim Chancellor at ECSU and threw his full support behind the programs here as his youngest son graduated from Dr. Hayden's program.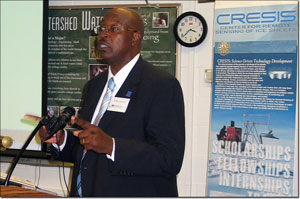 The Lectures Series was followed by a meeting of the Northeastern North Carolina Chapter of the IEEE Geoscience and Remote Sensing Society (GRSS). Dr. Linda Hayden, Assistant Dean of the School of Mathematics, Science and Technology and President of the NE NC Chapter of IEEE-GRSS greeted the guests.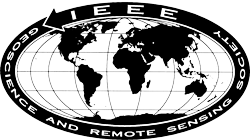 Following the lecture high school students from Camden, Currituck and Pasquotank county high schools who participated in the ECSU Wellcome Burroughs Project presented their research for the participants. These students created posters that reflected research in the areas of Submerged Aquatic Vegetation (SAV), Geology, Pollutants, and other environmental issues that they participated in during the summer of 2006. Photos of their participation can be viewed here.





ECSU Undergraduate Research Experience
1704 Weeksville Road, Box 672, Elizabeth City, North Carolina 27909
Phone (252) 335-3696 Fax (252) 335-3790