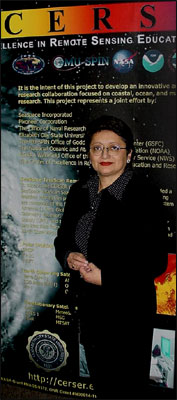 IEEE-GRSS Distinguished Lecture Series
On March 4, the Institute of Electrical and Electronics Engineers, Inc.(IEEE) Geoscience and Remote Sensing Society (GRSS) sponsored the first Distinguished Lectures Series to be held at a university on the campus of Elizabeth City State University.
The Geoscience and Remote Sensing Society seeks to advance geoscience and remote sensing science and technology through scientific, technical and educational activities. The Society strives to promote a high level of technical excellence among its members by exchange of information through conferences, meetings, workshops, publications, and through its committees to provide for the needs of its members.
This lecture was presented by Dr. Sonia Gallegos who spoke on the optical models she had developed for the Yellow Sea between the coasts of China and the Korean peninsula. Representatives from several colleges, businesses and various other institutions attended the lecture. For more information on Dr. Gallegos and to view her abstract, please go to the page located at:
http://cerser.ecsu.edu/03events/030403go/sgwebcast.html