Awards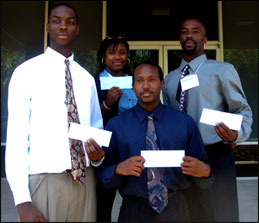 Several awards were given for the oral and poster presentations. Presentation of the awards and certificates was presided over by Dr. Robert Willis, ADMI Vice-President for Programs and Dr. Lawrence Oliver, ADMI Executive Director (Ex-Officio).
Poster Presentation Awardees
Jermaine Hemby
Elva Jones, Advisor, Winston-Salem State University
Keshia Clarke
Charles Hardnet, Advisor, Spelman College
Oral Presentation Awardees
Jason Montgomery
Usha Chandra, Advisor,Florida A&M University
Sharhonda Deloach, (presented by Jon Lee)
Loretta A. Moore,Advisor, Jackson State University
The evaluation criteria for the oral presentations and posters can be found here.