On March 3, 2009, The Center of Excellence in Remote Sensing Education and Research (CERSER) continued it's IEEE-GRSS Distinguished Lecture Series by welcoming Dr. Yaw A Twumasi,a Research Assistant Professor of Remote Sensing and Geographic Information systems (GIS) at Alcorn State University. Dr. Twumasi research interest concern the use of GIS technology and remote sensing. His research focuses on the use of Geo-spatial.
The Distinguished Lecture, co-sponsored by the NSF CI-TEAM project titled "Cyberinfrastructure for Remote Sensing of Ice Sheets" was web cast to all CReSIS and ADMI Partners.
Dr. Twumasi gave a presentation on titled "Application of Remote Sensing Technology to Natural and Built Environments: Some Illustrations." Special guests were welcomed by Dr. Linda B. Hayden, GRSS Chapter President and Dr. Twumasi was introduced by Dr. Erik Akers, a computer science professor at Elizabeth City State University. Dr. Twumasi's talk centered around the developments that took place in remote sensing both in the continent of Africa and other countries.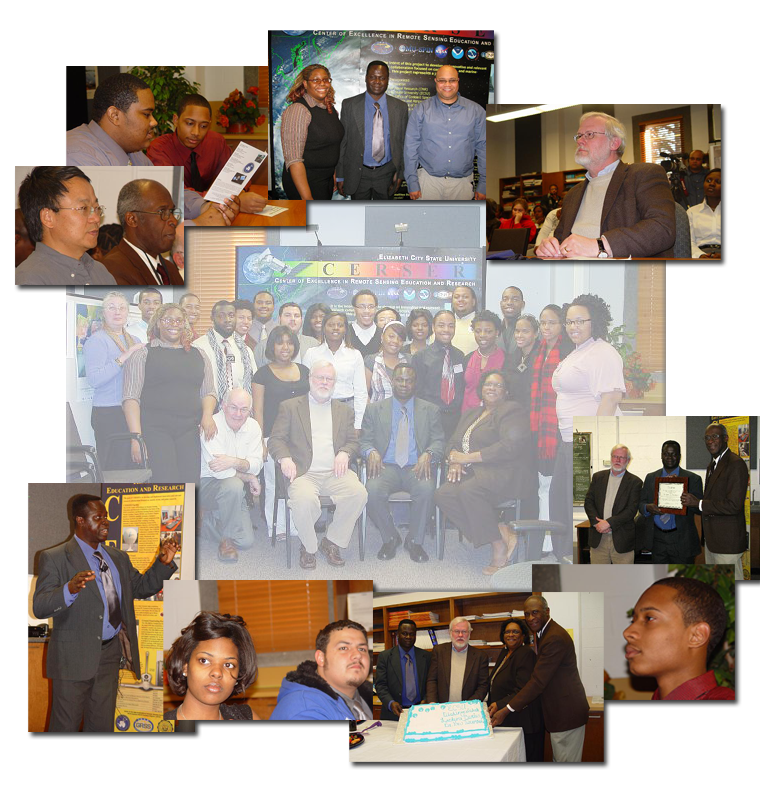 After the completion of the lecture, the IEEE-GRSS Northeastern North Carolina Chapter held its spring meeting. Chapter president, Dr. Linda Hayden, Assistant Dean of the School of Mathematics, Science and Technology welcomed local and visiting guests. The minutes from the November 2007 meeting were read by Ms. Patrina Bly, followed by Dr. William Porter, GRSS Chapter Vice-President, report, Mr Je'aime Powell who spoke on the Indiana e-Science Conference, and Dr. Malcolm LeCompte who gave a breif overview of the New York International Polar Year Week End. Dr. Hayden discussed the upcoming events in 2009 including the summer internship opportunities and offered invitation to student of Elizabeth City State University to take advantage of entrance into the Eastern North Carolina IEEE student branch. GRSS, closed out the meeting by challenging the students excel in their fields by setting goals and maintaining their integrity.