On December 7-12, 2008, representatives from Elizabeth City State University attended the 4th IEEE International Conference on e-Science on the campus of Indianapolis University. This conference brought together international and interdisciplinary research communities, developers and users of applications and supporting IT technologies. Results of the latest research and product/tool developments were presented and ongoing e-Science activities ranging from linguistics to astronomy were highlighted.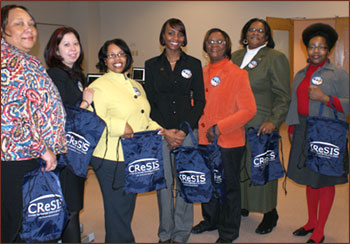 Dr. Linda Hayden, Director of the Center of Excellence in Remote Sensing Education and Research (CERSER), supported six elementary and middle school educators to join the conference on the first day as part of the Center for Remote Sensing of Ice Sheets (CReSIS) project. These teachers attended the session titled "Riding the Geoscience Cyberinfrastructure Wave of Data: Real Time Data Use in Education" which brought e-Science resources and applications for use in the classroom. This session also included a section on the "Online CReSIS and Polar Resources for Education" presented by Mr. Ryan Bowman of CReSIS and Dr. Linda Hayden.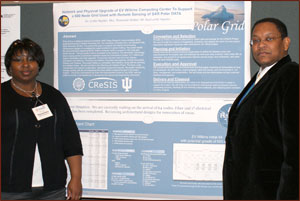 Other representatives from ECSU included Mrs. Sharonda Walton, IT Customer Service Manager and Mr Kuchumbi Hayden, Network Coordinator who presented a poster titled "Network and Physical Upgrade of EV Wilkins Computing Center To Support a 600 Node Grid Used with Remote Sensing of SAR Polar DATA." Their abstract can be found at http://escience2008.iu.edu/exhibits/EV_Wilkins.shtml.
Also attending were graduate students Mr. Je'aime Powell, Polar Grid Manager and Mr. Jeff Wood, Education Program Manager. Je'aime worked intensively with the Indiana University staff as a student volunteer while also attending various sessions pertaining to his responsibilites as Grid Manager. Jeff attended sessions on the development of portals and the spread of cloud technologies.