IEEE-GRSS Distinguished Lecture Series - 19 February, 2008

The Center of Excellence in Remote Sensing Education and Research (CERSER) continued it's IEEE-GRSS Distinguished Lecture Series by welcoming Dr. Richard Moore, Professor Emeritus of Computer and Electrical Engineering at the University of Kansas. Dr. Moore is a pioneer in the field of microwave-based satellite remote sensing and a prolific inventor of new remote-sensing devices that helped revolutionize mapping and monitoring of the Earth's surface. He was also a major contributor to understanding how microwave signals vary with surface characteristics.
The Distinguished Lecture, co-sponsored by the NSF CI-TEAM project titled "Cyberinfrastructure for Remote Sensing of Ice Sheets" was webcast to all CReSIS and ADMI Partners.

Dr. Moore gave a presentation on the history of microwave remote sensing titled "Microwave Remote Sensing from its Beginning to its Current State of the Art." The guests were welcomed by Dr. Darnell Johnson, Chairperson of the Math & Computer Science Department and Dr. Moore was introduced by Dr. Malcolm LeCompte, a CERSER Research Fellow. Dr. Moore's talk centered around the developments that took place in remote sensing both in the United States and other countries. He is credited with many of the terms used today in remote sensing and delivered intriguing insight into the everyday innovations of scientists and engineers during the growth of the field. The slides from this presentation can be found at: http://cerser.ecsu.edu/08events/080219dls/moore/.

The morning began with a presentation of the Polar Grid Project and the upcoming research trip to Greenland. Polar Grid is an NSF MRI funded partnership of Indiana University and Elizabeth City State University to acquire and deploy the computing infrastructure needed to investigate the urgent problems in glacial melting. Indiana University joined this presentation via video conference.

After the completion of the lecture, the IEEE-GRSS Northeastern North Carolina Chapter held its spring meeting. Chapter president, Dr. Linda Hayden, Assistant Dean of the School of Mathematics, Science and Technology welcomed local and visiting guests. The minutes from the November 2007 meeting were read by Ms. Unquiea Wade, followed by Dr. William Porter, GRSS Chapter Vice-President, who gave the ADCom Report. Dr. Hayden discussed the upcoming events in 2008 including the IGARSS 2008 Symposium in Boston, Massachusetts. Mr. Charles Luther, past president of the IEEE-GRSS, closed out the meeting by challenging the students excel in their fields by setting goals and maintaining their integrity.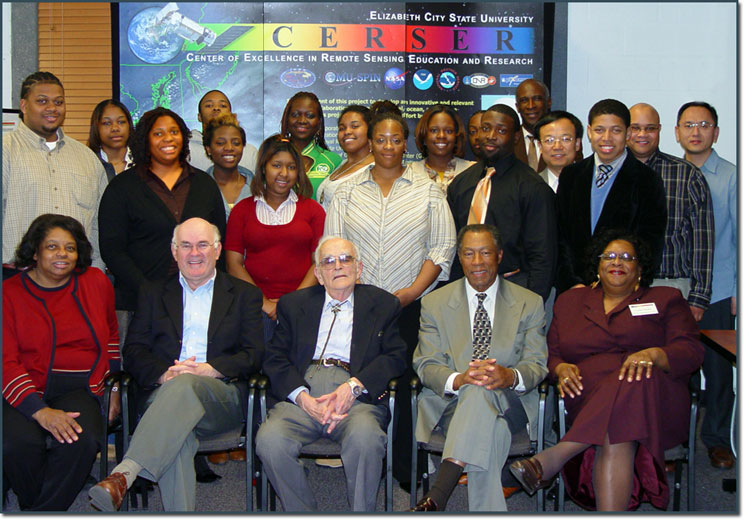 ECSU Graduate and Undergraduate Research Students with Dr. Richard K. Moore and guests.

Front Row
Dr. Andrea Lawrence (Spelman College), Dr. Malcolm LeCompte, Dr. Moore, Mr. Charles Luther, Dr. Linda Hayden

Pictured with students:
Dr. Minjun Wang, Dr. Jinchun Yuan, Dr. William Porter