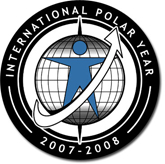 ---
On February 7-8, 2009, representatives from Elizabeth City State University traveled to New York's American Museum of Natural History (AMNH) to participate in the New York City International Polar Weekend. This family-style event is a New York celebration of highlights from the International Polar Year (IPY), the largest collaborative science program the world has seen in 50 years. The IPY focuses on developing an understanding of our changing world, with the poles being key to studying climate change.
Traveling from ECSU were Dr. Malcolm LeCompte, Research Fellow with the Center of Excellence in Remote Sensing Education and Research (CERSER), and Mr. Lee Hayden. Dr. LeCompte's presentation at the event was entitled "Picturing Heat from Ice" illustrating how thermal cameras can be used to image ice—even from space.
The poster documenting Dr. Lecompte's presentation can be found here in JPG format.
The New York City International Polar Weekend program included events and activities for all ages including performances, short lectures, film clips with commentary, and an interactive Polar Fair, with scientists, explorers, artists, and performers from Norway and Canada, as well as the United States.