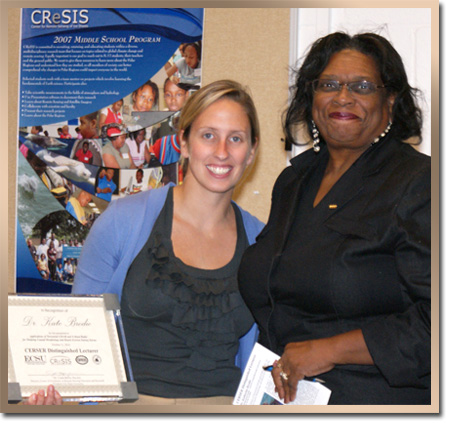 On Thursday, October 21, 2010, Dr. Kate Brodie of the Field Research Facility - USACE Coastal Hydraulic Laboratory at Duck, North Carolina, presented "Applications of Terrestrial LIDAR and X-Band Radar for Studying Coastal Morphology and Beach Erosion During Storms" as part of the continuing CERSER Distinguished Lecture Series sponsored by the IEEE-Geographic Remote Sensing Society and the Center of Excellence in Remote Sensing Education and Research (CERSER). Dr. Darnell Johnson opened the meeting and Dr. Jinchun Yuan, ECSU Associate Professor, introduced Dr. Brodie. 
Dr. Brodie is a research oceanographer at the Field Research Facility (FRF) of the U.S. Army Corps of Engineer's Coastal Hydraulics Laboratory. The FRF is a unique facility located on the Atlantic Ocean in Duck, NC that has been conducting coastal research and collecting continuous observations of beach topography and nearshore waves since 1977.  Dr. Brodie joined the staff in June, 2010, bringing expertise in coastal applications of state-of-the-art remote sensing technologies such as X-Band radar and terrestrial LIDAR. 
Dr. Brodie's research goals are aimed at understanding the morphodynamics of coastal change on the time scale of storms-to-years, with the ultimate goal of increasing prediction skill of shoreline evolution and inundation models during storms.  Her research program is also focused on developing innovative technologies that increase researchers' ability to collect wave, current, and bathymetric data in the dynamic surf-zone during storm conditions. 
Dr. Brodie received her Ph.D. in Geological Oceanography in May, 2010 from the Virginia Institute of Marine Science, where she co-developed Coastal LIDAR and Radar Imaging System (CLARIS), with her advisor, Dr. Jesse E. McNinch, and twice-earned an Outstanding Student Paper Award at the American Geophysical Union's annual Fall Meeting.
View a video of the presentation here:
http://cerser.ecsu.edu/10events/101021dls/drkate-dls.mp4
View the program for the event here:
http://cerser.ecsu.edu/10events/101021dls/fall2010dlsprogram.pdf