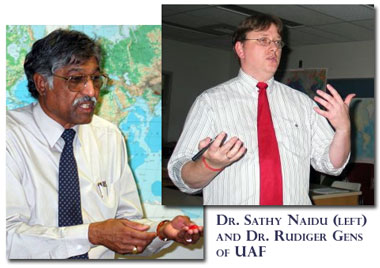 On October 30, 2006, the USDA-VSU GIS Program held a collaboration meeting in the J. R. Jenkins Science Center with representatives of Elizabeth City State University (ECSU) and the University of Alaska at Fairbanks (UAF). Dr. Sathy Naidu and Dr. Rudiger Gens of UAF delivered presentations regarding the remote sensing program at UAF and in the state of Alaska.
Dr. Naidu's presentation introduced UAF, remote sensing research in Alaska , and his personal research. His presentation can be found here. Dr. Gens presentation dealt with the many uses of remote sensing in Alaska from monitoring arctic rivers to GIS education in the classroom. His presentation can be viewed here.
The visitors met with various individuals including the following: Dr. Ronald Blackmon, Dr. Cynthia Warrick, Dr. Linda Hayden, Dr. Francisco San Juan, Dr. Darnell Johnson, Dr. Jinchon Yuan, Dr. Ali Khan, Ms. Patricia Gibbs, and Dr. Malcolm LeCompte.
Dr. Ali Khan and Dr. Francisco San Juan coordinated the visit of the UAF faculty to ECSU. The visit was funded through a joint collaboration funded under the USDA grant for GIs instruction. Dr. Shobha Sriharan is the PI for the project is titled: Collaborative Approach for Geographic Information System Instruction: Curricula Design, Faculty Development and Joint Degree (#2005-0354). Other institutions involved in the project include: 1890 Institutions ( Delaware State University and Southern University), HBCU's ( Elizabeth State University, Clark Atlanta University, and Bethune-Cookman College), Virginia Community Colleges (Southside Virginia -Keysville, Southside Virginia-Alberta, John Tyler, and J. Sargent Reynolds), USDA-ARS Remote Sensing Laboratory in Weslaco, Texas, USDA-NRCS GIS Date Analyst in Petersburg, VA, and US Geological Survey (USGS) in Reston, VA.
ECSU Undergraduate Research Experience
1704 Weeksville Road, Box 672, Elizabeth City, North Carolina 27909
Phone (252) 335-3696 Fax (252) 335-3790