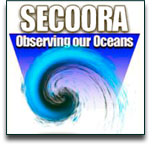 The Southeast Coastal Ocean Observing Regional Association (SECOORA) held a wokshop in Jacksonville, Florida on September 12-13, 2006. Attending this workshop from Elizabeth City State University were Dr. Linda Hayden, Dr. Malcolm LeCompte, and Dr. Jinchun Yuan representing the Center of Excellence in Remote Sensing Education and Research (CERSER).
SECOORA seeks to bring those who use the southeast ocean to into a group that can share information. This group provides data, information, and products on marine and estuarine systems. This data is used in a variety of ways including weather forecasting, search and rescue, energy and utilities, and many other entities that may need it.
The Keynote speaker for this workshop was Dr. Mary Altalo, Director of Ocean.US, the National Office for Integrated and Sustained Ocean Observations (http://www.ocean.us/). Dr. Altalo spoke on Certification Criteria/Engaging other Agencies. A PDF version of the workshop agenda can be found here.